Lucky To Be Plaudit
April 30, 2008
This is a poor little rescue colt aptly named "Lucky".
He caught my attention on a Craigslist ad and after a quick Google search, I found that he had come from very nice registered Appaloosa parents. He is 12 months old believe it or not, but he is very small for his age. We decided to take a chance on this extremely emaciated little guy because it was obvious he needed some serious help if he was to even live.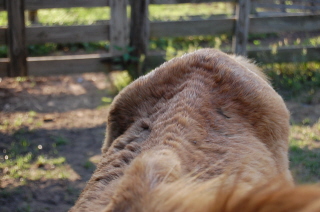 Poor Lucky even collapsed in the trailer when I picked him up. I won't go into detail as to how he ended up in this pathetic state (it's past and it makes me angry to re-live it) but we got him back to our place still alive.
Lucky was so underweight that his rear pastern joints were knuckled over and his front legs almost met in the middle. He could barely walk. He had rain scald and WORMS ~ so many worms that he was pot bellied and couldn't eat more than a couple bites of feed before it hurt his stomach. He has a good size umbilical hernia that the vet says they will address at gelding time as long as it doesn't cause him problems before then.
We had to be very careful about deworming him, too many dead worms can block up the intestine and we would loose him. Luckily, he responded well and he expelled worms bigger than anything we had ever seen! We put a new pencil next to a couple of them for comparison.
He is so gentle! I don't know if he is just too weak to care what goes on around him or he is just good natured but he enjoys the kids being around him. We gave him a medicated bath to help his skin issues and trimmed up his ears & bridle path. He didn't mind the clippers at all.
It's hard to tell through all the hair but he is gaining weight every day. I trimmed his feet to help straighten his legs out but from here out it's up to his body to heal inside and out. He still can't eat much at a time so I have him on Wendlands One n Only free choice and he seems to do well with it.
I was able to locate and contact the farm who owned the sire & dam to Lucky. Need less to say, they were shocked and appalled to find out Lucky had not been taken care of. In piecing together his history, I found out that his mother had been sold in foal to someone who appeared to be a good horse person. For whatever reason, that person did not take adequate care of their horses and Lucky was born into less than desirable circumstances. That middle owner did send a picture of Lucky when he was born
and that was the last contact the breeders had with that person. There was no way to know that it would all end so badly.
May 05, 2008
Lucky was sired by an appy named "HEART OF DIXIE" and out of an appy mare "PLAUDITS FOXY DANCER". Both parents have "Plaudit" in their pedigree so a fitting registered name for Lucky is "Lucky To Be Plaudit" since it was his potential that convinced us to take him in.
You can see his entire pedigree at Pedigree
Now that we have moved forward with his recovery, he is doing very well. His coat is starting to shed out the long stuff and grow in the bald patches. His spine is filling in and his neck is not so hollow. He is even starting to trot on occasion which is putting strength in his legs.
May 12, 2008
The kids enjoy brushing him and have no trouble picking up his feet.
Every day he grows stronger and is putting on weight. We let him have the run of the yard now that his worms are cleared out and he can handle green grass.
May 21, 2008
May 26, 2008
June 5, 2008
Lucky has developed a chest! Little muscles are showing :o)
June 17, 2008
July 4, 2008
It has been just over 2 months since Lucky arrived and he is a whole new horse. He can run & play with the other foals and his legs have completely straightened out.
He also makes a game of hide & go seek with the other foals, often the trailer is a good place to hide…
July 18, 2008
Lucky has really filled out and has a nice round rump. He is still very friendly and will follow you everywhere!
Winter has set in but Lucky didn't grow much of a winter coat. He has grown much taller and is settling into more normal body proportions. I took some pictures on the last day of January 2009.
Lucky Playing with Snazzy
Say Hey to Colonel
Winter is winding down and Lucky was gelded in March. He has been spending most of his time just loafing around and trying to grow a bit. I took another pix of him on his 2nd birthday ...
2011
It has been a couple of years and Lucky has just been hanging out in the pasture. He has filled out quite a bit and looks more like a normal horse. He is about 14.3 hands tall and still a big sweetie.
These are some current pictures taken in the drought of 8/2011: